Saint Gemma Galgani
Feast Day: April 11th
Saint Gemma Galgani
"If I saw the gates of Hell open and I stood on the brink of the abyss, I should not despair, I should not lose hope of mercy,
because I should trust in You, my God. "

- Saint Gemma Galgani
Profile
Born at Borgo Nuovo di Camigliano near Lucca, Tuscany, Italy, 1878; died April 11, 1903; beatified in 1933; canonized in 1940.
Gemma's was the daughter of a poor pharmacist. Her mother died when she was seven, and from then on her life was one of domestic trials and great physical and spiritual pain. Through it all, however, she remained at peace and was the subject of extraordinary supernatural phenomena--visions, ecstasies, revelations, supernatural knowledge, visible conversations with her guardian angel, prophecy, miracles, recurring periodic stigmata, and diabolic assaults.
When she was 18, her father died, and Gemma joined the household of Matteo Giannini at Lucca as a domestic servant. She wished to join the Passionist congregation of which her spiritual director was a member, but she was prevented from doing so by her physical frailties, which included a condition of the spine (tuberculosis). Later Gemma believed herself to have been cured of the tuberculosis by the intercession of Saint Gabriel Possenti, who had himself died of consumption.
She was of a remarkably fervent religious disposition. Between 1899 and 1901, she was subject to various supernatural phenomena, which were carefully investigated by her confessor, Father Germano. For over 18 months she suffered the stigmata of Christ's Crucifixion and marks of His scourging while she prayed. She experienced visions of Christ, the Blessed Virgin, and her guardian angel. When she spoke in ecstasies, the sound of her voice changed, and listeners recorded her words.
At other times, however, she seemed to suffer possession and performed such acts as spitting on a crucifix and breaking a rosary. Throughout her life she patiently endured her spiritual and physical sufferings--which included the scorn of unbelieving relatives and townspeople--and practiced severe austerities.
She died an early death on Holy Saturday and shortly thereafter a popular cult developed. Her popularity increased in 1943, when her correspondence with her spiritual director was published. She was canonized, despite much opposition because of some of the phenomena connected with her, based not on the phenomenal nature of her religious experiences but on the holiness of her life (Attwater, Benedictines, Delaney, Encyclopedia, White).
Prayer to Saint Gemma Galgani
O Most Glorious St. Gemma, Mirror of innocence and penance, may we who humbly invoke thy Heavenly intercession obtain from thee the grace of purity in all our thoughts, words and actions.
Amen
Prayer II
O Saint Gemma, help me to imitate your love for the Passion of Jesus and to offer back to him all the misfortunes and sufferings I experience in this world so that I can be with you and Him in the next.
Amen
Prayer III
O Holy Gemma, I am near you, help me to pray. You who know what I and those near me need; look after my urgent needs, my spiritual and material wants. You take care of them! I confide in you and entrust all to your loving care. Offer up to Jesus that tender and constant care that you bore Him here on earth. O Holy Gemma, you who physically suffered all the pains of the Passion of Jesus, I beseech of you the grace to meditate on and live the Passion of Jesus and the sufferings of Holy Mary. Pray that I will be able to walk in the path of humility, simplicity, love and sacrifice, fulfilling at all times, and in all ways, the holy will of God. Let me live united with Jesus, the Blessed Virgin and you, for all eternity
Amen
Saint Gamma Galgani's Prayer to Our Lord Jesus Christ
O my crucified God, behold me at Your feet; do not cast me out, now that I appear before You as a sinner. I have offended You exceedingly in the past, my Jesus, but it shall be so no longer. Before You, O Lord, I place all my sins; I have now considered Your own sufferings and see how great is the worth of that Precious Blood that flows from Your veins. O my God, at this hour close Your eyes to my want of merit, and since You have been pleased to die for my sins, grant me forgiveness for them all, that I may no longer feel the burden of my sins, for this burden, Dear Jesus, oppresses me beyond measure. Assist me, my Jesus, for I desire to become good whatsoever it may cost; take away, destroy, utterly root out all that You find in me contrary to Your holy will. At the same time, I pray You, Lord Jesus, to enlighten me that I may be able to walk in Your holy light.

Amen.


Saint Gemma's Prayers to Blessed Mother
Grant me, O Mary, that I may get to know the cross; not only Jesus' cross,
but whatever cross fits me best.
Amen

Prayer II
Jesus entrusted me to His Mother, and charged me to love her very much. You are then my heavenly Mother.
You will be towards me like any mother towards her children. You see me weak? You will have mercy on my weakness.
You see me poor in virtue? You will help me. O my Mother, do not forsake me! My dearest Mother,
do not abandon me!
Feast Day: January 3rd

St. Genevieve (422-512), who became the patron saint of Paris, was famous throughout the world even in her own lifetime. In the East as well as West, her name and virtues were known and praised. From the top of his column in Asia Minor, St. Simeon Stylites greeted his sister in Christ and praised her perfection in the Christian virtues. The capital of France was entrusted to her. She was a simple shepherdess, but she protected the destiny of Paris, just as it was a poor and simple farmer, St. Isidore, who watched over the capital of the Spanish people.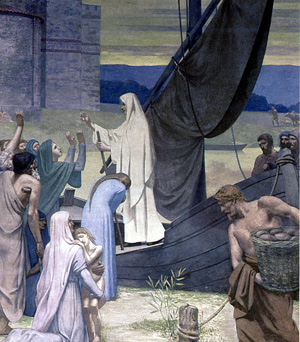 St. Genevieve, patroness of Paris, began her apostolate with the women outside the gates of the city
How Our Lord chose her as His spouse while she was still a young girl in Nanterre is recounted by St. Germain of Auxerre, one of the greatest Bishops of Gaul in the 5th century. Pope St. Boniface had sent St. Germain to Great Britain to combat the Pelagian heresy around the year 430. He was accompanied by St. Lupus, Bishop of Troyes. On their way through France, they stopped at the village of Nanterre.

Upon their arrival, the two Prelates went to the Church to pray for the success of their trip. The people surrounded them with pious curiosity and to ask their blessing. Illuminated by a divine inspiration, Germain espied in the crowd a young girl of seven years of age, and he was interiorly advised that Our Lord had chosen her for a singular mission. He asked the name of the child and that she be brought before him. The people told him that her name was Genevieve. Her father and her mother brought her forward.

"Is this child yours?" Germain asked.

They answered, "Yes."

And the holy man said: "Blessed are you that God hath given you this child. Know you for certain that on the day of her birth the Angels sang and a great feast was made in Heaven. This girl shall be of great merit before the Lord. And from her good life and words many shall take example, that they shall leave the yoke of sin and convert to God."

Then, he turned toward the child, and she said to him: "Blessed Father, your servant is listening."

The Bishop asked: "Tell me, and be not embarrassed, if you will consecrate yourself to Christ in purity without stain as His spouse?"

The maid answered: "Blessed be you, my Father. What you ask of me is the most cherished desire of my heart. I ask only that by your prayers, Our Lord will accomplish my desire."

"Have confidence, my daughter," said Germain. "Be firm in your resolution. Prove by your works the good things that you believe in your heart and say with your mouth, and Our Lord shall give you strength as well as virtue."


After this prophecy, the child grew in holiness and became the great St. Genevieve, who saved Paris from the attack of Attila and his horde of barbarians in 457. As the Huns approached Paris, Genevieve told the people not to flee the city but to stay. Through the intercession of her prayers, Attila, contrary to what was expected and for no known reason, changed his path of destruction and left Paris untouched. She was truly one of the greatest figures in the History of that time.

In this episode we see the great blossoming of holy souls that would form the foundation for the Middle Ages. Observe the figures of this story. First, there was Pope St. Boniface. He sent St. Germain of Auxerre to England to defend it against the Pelagians. St. Germain was accompanied by another saint, St. Lupus, Bishop of Troyes. That is to say, here alone we have two Bishops - two saints - who were sent by a Pope who was a saint to defend a country that was in danger of being taken by heresy. We can understand the ambience of the sanctity, the intensity of the spiritual life that was the foundation for the Middle Ages.

On their way through France, the two holy Bishops passed through the small village of Nanterre. What was the first thing they did upon arriving? They did not stop at a hotel or inn to rest and take something to eat. Their first concern after a tiring journey was to go to the Church and pray.

Their bearing and sanctity were such that when they entered the Church, the people surrounded them to observe them praying and ask their blessing. We can imagine the little people, the faithful of the village, surrounding the Bishops who were absorbed in prayer before the Blessed Sacrament. We can consider how few occasions today we have to see two holy Bishops praying like this in a chapel to the Blessed Sacrament.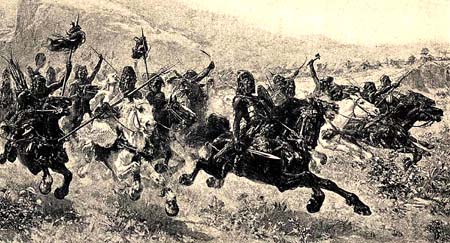 In the 5th century Attila and his hordes rode roughshod over Western Europe. The prayers of St. Genevieve diverted his path of destruction from Paris.
Then, suddenly, in this ambience of ardent devotion, one of these Bishops received a visible grace from Heaven. By visible, I do not mean something visible to the eye, but visible because it showed him amidst the crowd a child who would be a great saint. It was a girl of seven years of age. He called her to him, and before the astonished and admiring people, the Bishop made a prophecy about the future of this young child. He began with these words: "Know that certainly on the day of her birth the Angels sang and a great feast was made in Heaven."

We can easily imagine the marvel and admiration of all the villagers. It is not difficult to visualize that for the small village, this was important news. The arrival of the Bishops was already an enormous thing for them. Suddenly the Bishops singled out a girl whom they were accustomed to see playing in the street, barefoot, running here and there. Now they are informed there was a great joy in Heaven when this girl was born. No one doubted. No one asked for evidence and proof. Everyone believed. Why? Because they belonged to this group of blessed souls who believe without having seen.

Everyone believed. The girl also believed, along with her parents. It was so natural that there should be joy in Heaven because a girl who would be holy had been born! The saints were so frequent, so numerous, in that time! They had such a close and continuous contact with Heaven that the people were accustomed to this supernatural communication.

How different this from our days, when a great distance separates contemporary man from the supernatural. Miles and miles separate him from Heaven. Today he does not like to admit that a thing can come from Heaven. He has armed himself with every weapon imaginable to try to deny the supernatural. And if hecomes face-to-face with something undoubtedly supernatural, then and only then does contemporary man resign himself without enthusiasm to admit that something can come from Heaven.

On the contrary, in that time St. Germain immediately realized the future of the girl. He called her to him and asked her if she wanted to consecrate herself to Our Lord. She answered, "My father, this is the most cherished desire of my heart." And that was that.

Later, she left for Paris. And what remained in Nanterre? She left a wake of light in that village, which took its place in History. Nanterre was born to History because a great supernatural event took place there, where God manifested His plan for St. Genevieve through the words of St. Germain.

We can imagine what happened after the visit of St. Germain. The girl grew in years and holiness. She rose up like a cedar of Lebanon and scented the panorama with her presence. She bloomed like a flower in the center of the West. There was no press, no radio, no television – o what happiness! Nonetheless her fame flew. Even if the people of that time traveled mostly by foot, they had a communication that today we cannot imagine.

Let me give you one small proof of this. Today one of the largest collections of Byzantine coins can be found in the museums of Norway and Sweden. Why? Because the barbarians who lived there in the Middle Ages traveled by foot, crossing Russia, to sell their furs and different pieces in Constantinople. They used to return with Byzantine coins. Since they did not have banks, it was their habit to bury these coins in the ground in secret places. After many centuries of wars, migrations, etc., a great number of those coins still remained in the ground, which is why many have been found in that area. In Byzantium, they no longer have many coins as they were lost in the Islamic invasions, but some of the best collections are preserved in museums of Norway and Sweden.

You can see that these people used to travel and communicate a great deal. So it was that in the East, the other pole of the Christian world, St. Simeon Stylites in Asia Minor had heard about St. Genevieve. He was the famous saint who lived on the top of a column and never stepped off it. He prayed continuously, a kind of hermit. He heard about the virtues of St. Genevieve, and by this kind of radar that the saints have to recognize each other, he knew that she was his spiritual sister and greeted her from afar on the top of his column. We can imagine the supernatural contact of these two saints forming a like of voltaic arch over the oceans, islands, mountains, deserts, and cities.

Then we can see how fortunate it was to live in those days among so many saints who transmitted the supernatural presence of Heaven, and how sad it is to live in our days, when sanctity is so difficult to find.
Text provided by Comments of Prof. Plinio and traditioninaction.org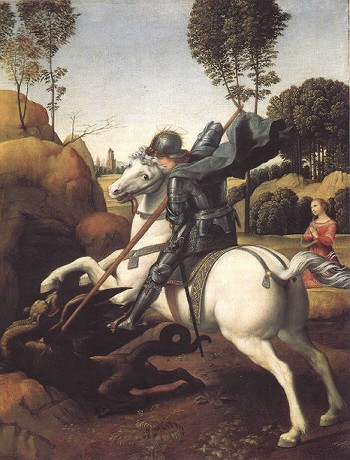 St. George is honored throughout Christendom as one of the most illustrious Martyrs of Jesus Christ. In the reign of the first Christian emperors numerous churches were erected in his honor, and his tomb in Palestine became a celebrated place of pilgrimage. But his history is involved in great obscurity, as no early records of his life and Martyrdom are at present in existence. The following are the traditions concerning him which have been handed down to us by the Greek historians, and which are celebrated in verse by that illustrious Saint and poet of the eighth century, St. John Damascene.
St. George is thought to have been born in Cappadocia of noble Christian parents. After the death of his father, he traveled with his mother into Palestine, of which she was a native. There she possessed a considerable estate, which fell to him upon her death. Being strong and robust in body, he embraced the profession of a soldier, and was made a tribune, or colonel, in the army. His courage and fidelity attracted the attention of Emperor Diocletian, who bestowed upon him marks of special favor. When that prince declared war against the Church, St. George laid aside the signs of his rank, threw up his commission, and rebuked the emperor for the severity of his bloody edicts. He was immediately cast into prison, and alternate threats and promises were employed to induce him to apostatize. As he continued firm, he was put to the torture and tormented with great cruelty. "I despise your promises," he said to the judge, "and do not fear your threats. The emperor's power is of short duration, and his reign will soon end. It were better for you, to acknowledge the true God and to seek His kingdom." Thereupon a great block of stone was placed on the breast of the brave young officer, and thus he was left in prison.
Next day he was bound upon a wheel set with sharp knives, and it was put in motion to cut him to pieces. Whilst suffering this cruel torture, he saw a heavenly vision, which consoled and encouraged him, saying, "George, fear not; I am with thee." His patience and fortitude under the torments inflicted on him so affected the numerous pagan spectators that many of them were converted to the Faith and suffered Martyrdom for it. On the next day, April 23, 303, St. George was led through the city and beheaded. This took place at Lydda, the city in which, as we read in the Acts of the Apostles [9], St. Peter healed a man sick with the palsy. Due to his chivalrous behavior (protecting women, fighting evil, dependence on faith and might of arms, largesse to the poor), devotion to Saint George became popular in the Europe after the 10th century. In the 15th century his feast day was as popular and important as Christmas. Many of his areas of patronage have to do with life as a knight on horseback. The celebrated Knights of the Garter are actually Knights of the Order of Saint George. The shrine built for his relics at Lydda, Palestine was a popular point of pilgrimage for centuries. Because of incredible amount of miracles and proven efficacious assistance in adversity and difficulties, that was attached to him by his intercession , he was declared one of the Fourteen Holy Helpers.
Lesson
WE, TOO, like St. George, often have opportunity to confess our faith in Christ. We confess it by patiently bearing adversity, by suppressing our evil inclinations, by suffering injustice without retaliating evil for evil, by using every opportunity of performing deeds of charity, by devoting ourselves unremittingly to our daily duties, by carefully guarding our tongue, etc. Examine yourself whether you have not often denied your Faith, if not in words, through your works.
The Life of St. George
by Fr Francis Xavier Weninger, 1876
St. George, one of the most renowned martyrs of our church, whom the Greeks call the Great Martyr, was a native of Cappadocia, and the son of illustrious Christian parents. His courage and his uncommon bodily strength made him adopt the profession of a soldier. His undaunted bravery soon caused him to be advanced to the rank of commander in the army of the Emperor Diocletian, by whom he was greatly esteemed on account of his valor. The emperor was ignorant that St. George was a Christian, until the following occurrence took place. Diocletian, a bitter enemy of the Christians, one day assembled all his counselors, and announced to them that in order to preserve their religion he had determined to exterminate all the Christians in his dominions, but desired their opinion upon the subject. One after another, the counselors approved and praised this plan of the emperor. George alone disapproved of it, and said boldly, that he could not understand by what right they would exterminate the Christians, as their religion and teachings were full of wisdom, their commandments holy, and their conduct blameless. All present were astounded at this speech, and began to suspect that he himself was a Christian. They represented, therefore, to him on the one side, the favor of the emperor and the great consideration which he enjoyed, the riches and honors he already possessed, as well as the still greater that were in store for him; on the other hand, the disgrace in which he would be held by the emperor, the loss of all his riches and honors, as well as the cruel tortures that he would incur, perhaps even an ignominious death, in case he disagreed with the other counselors, or if he was a Christian and did hot abandon his faith. They added much concerning the greatness and power of their gods, the errors of the Christian faith, and even refrained not from attacking its Divine founder.

All this, of course, was done to fill St. George with disgust toward the Christian religion, and to induce him to worship their idols. He listened during some time in silence; but when they spoke contemptuously of Christianity, and defamed the Son of God, he no longer kept silence, but with the magnanimity of a fearless spirit: "I am a Christian!" cried he "I worship the only true God, whose service, neither fear of the anger of a mortal man, nor the loss of my earthly possessions, can cause me to abandon. I shall consider it my highest honor to be permitted to shed my blood, in the defense of His holy Name. That you speak so irreverently of Christianity and its Founder is only to be ascribed to your ignorance. If you were better instructed you would speak differently." Then turning to the emperor he said, "Oh! how much would it redound to the advantage of your Majesty if you would worship with me the God of the Christians! The kingdom He would give you in the other world would be incomparably greater than that which you now possess."

It is impossible to describe the wrath of the emperor on hearing so unexpected a confession. He immediately ordered that the valiant confessor of Christ should be fettered with heavy chains and be thrown into a dark dungeon. The following day he was bound to a wheel which was set with sharply pointed irons, and was rolled up and down on it so long that his whole body seemed to be one great wound. During this dreadful torture, which the Christian hero cheerfully endured, appearing almost insensible to pain, a voice from heaven was distinctly heard, saying: "Fear not, for I am with thee; combat bravely." After the torture, St. George was dragged again into the dungeon, where he thanked God for the strength vouchsafed to him, admonished all Christians who came to see him to be constant in their faith, and healed several sick persons by making the sign of the cross over them. The Almighty sent an angel to him who cured his wounds and exhorted him to remain faithful. When, the next morning, he was brought before the emperor, the latter ascribed the complete restoration of the Saint to witchcraft, and again tried to persuade him to the worship of the idols. The Saint desired to see the idols he was requested to adore. The emperor, thinking that his eloquence had prevailed over the constancy of the Saint, led him, accompanied by the empress, and followed by all the counselors, into the temple of an idol. The Saint, after having looked around for one moment, placed himself before a statue of Apollo, and asked: "Is it thou who demanded of me the sacrifice which is due only to the true God of heaven and earth?" Having said this, he made the sign of the holy cross towards the image, when the devil, who was hidden in it, cried, with dreadful roaring: "No! no! I am no God. There is no other God than He whom thou dost worship." "How dare you then, remain in my presence?" said St. George; and hardly had the words passed his lips, when, amid a terrible howling and lamenting all the idols fell down from their altars and burst into a thousand pieces. The idolatrous priest beholding this, uttered loud cries demanding vengeance, and the emperor, foaming with rage, commanded them to torture the magician (thus he called St. George) in the most unheard-of manner.

It is the opinion of many that St. George was the first who fell a victim to the fury of Diocletian against the Christians, and that in order to frighten others he gave full sway to his cruelty in torturing the Saint. At last, however, convinced that he could effect nothing with the Saint, he ordered that the invincible follower of Christ should be decapitated. The Empress Alexandra was led to execution at the same time. She had secretly embraced Christianity some time before, but not until she was witness of the above described scene in the temple, had she the courage to confess openly that she also adored the God of the Christians. Many others were converted at the same time, who afterwards sealed with their blood the truth of their faith.

While proceeding with a joyful heart to the place of execution, the empress prayed unceasingly, raising her eyes to heaven. Having arrived there, St. George knelt down, and after thanking God that he had been a Christian from his infancy and had been strengthened to remain so until his end, he prayed most fervently that the Almighty might have compassion on the heathens, that light might be given to them, and that they might all be brought to the knowledge of the true faith. After this he fearlessly offered his head and received the death stroke from the hands of the executioner.

St. George is generally represented as delivering a maiden from a dragon, or slaying one of those animals in combat. This is intended to denote that he valiantly overcame the dragon of hell, which desired to devour the woman represented in the Apocalypse--the Christian Church, the virgin bride of Christ. Others maintain that the dragon represents heathendom, out of whose jaws St. George rescued the Empress Alexandra, who, incited by his intrepid confession, also declared her faith and received the crown of martyrdom. She was executed on the same day as the Saint.
Practical Reflections
The heathen counselors of the emperor spoke much in derision of the Christian religion, endeavoring by this means to alienate St. George from it. He, however, heeded not their words, as he rightly judged that the devil speaks through the mouth of the wicked. He remained steadfast. That the heathens should have spoken derisively of the holy religion, can excite no astonishment. They knew no better. That in our day there are many who use a similar language, although they pretend to be Catholics, must necessarily cause great wonder. How many Catholics speak of the articles of faith, of the commandments and ceremonies of the Church like heretics! They scoff at confession, fasts, pilgrimages, and processions; they deride confessors, priests and religious, sometimes even worse than heretics. They even doubt certain articles of faith, but agree on many points with the heretics, to the great scandal of those who hear them. It may be that they do not mean all they say, and only wish to be regarded as great and learned men, who know everything better than the priests, or the Doctors of the Church, or even the holy Fathers.

But be they in earnest or not, they do great wrong and have to answer for the scandal they give. To scoff at religion is always wicked, is always to be condemned. In the hearts of such people the true faith is either already dead, or at least in great danger of being so. It was by his language that St. Peter, who renounced Christ, was known to be from Galilee; and thus by the language of such scoffers must we judge that they can no longer be counted as true Catholics. A true Catholic esteems his faith highly and speaks well of all that it contains. Now, pay attention, dear reader; if ever you hear any one speak against the Catholic faith, contradict him fearlessly, if you are able to do so. Should you, however, not be able, do not allow such godless speeches to mislead you. Do not believe them: the devil speaks through them as he did through the mouth of the heathens of whom I told you. Think of the instructions you have received, of the lessons which have been taught you in Sermons. You can never justify it before God, if you believe these God-forsaken people, or if you become doubtful in your faith through them, as God never intended that they should instruct you. God gave you His Church, and her teachers are to be your instructors. To these you shall give, ear, their words you shall believe. If you heed not this commandment, you cannot expect pity when you go to perdition. "Hearken not to your prophets the false ones . . . . . . . For I have not sent them, saith the Lord: and they prophesy falsely: to drive you out that you may perish" (Jerem. xxvii. 10). Thus the Almighty, in remote times, admonished His people by the prophet Jeremias. Christ, our Lord, says: "Beware of false prophets, who come to you in the clothing of sheep, but inwardly they are ravening wolves" (Matt. vii. i).

The heathen counselors of the Emperor praised and approved of his wicked design to exterminate the Christians. This they did that they might not lose the Emperor's favor. But St. George openly denounces Diocletian's determination, preferring to lose his favor than that of the Almighty. Take care that you never praise, justify, nor approve of what you know to be wrong or wicked. Do not decide in favor of those who say this or that is no sin when you know that it is. Take no pleasure in such opinions lest you share in the sins of others. "Woe to you that call evil good and good evil," says the Lord our God (Isa. v.). Say. without hesitation what you believe to be true or false, and do not mind the displeasure of others. The grace of the Most High must be dearer to you than the favor of men. God, whom you offend when you call evil good, is much more to be feared than all mankind. Compare the advantage you can gain from men with what you may expect from God; and also the injury that man can do, with the punishment of an offended God. Compare these and then judge for yourself how to act. "Fear ye not them," says our Lord, " that kill the body and are not able to kill the soul, but rather fear Him that can destroy both soul and body in hell" (Matt. x.).

Born: between ca. AD 275 and 281, Nicomedia, Bithynia
Died: April 23, 303, Lydda, Palestine
Representation: St. George is usually represented as a knight tilting against a dragon with armor and banner on a horse; but this is only emblematical of the glorious combat in which he encountered and overthrew the devil, winning for himself thereby a Martyr's crown.
Patronage: agricultural workers; archers; armourers; Boy Scouts; butchers; cavalry; chivalry; Crusaders; equestrians; farmers; field hands; field workers; herpes; horsemen; horses; husbandmen; knights; lepers; leprosy; Order of the Garter; Palestinian Christians; plague; riders; saddle makers; saddlers; sheep; shepherds; skin diseases; skin rashes; soldiers; syphilis; Teutonic Knights
Patron of the Following Countries
Patron of the following Cities and Provinces

| | |
| --- | --- |
| | Canada |
| | England (by Pope Benedict XIV) |
| | Ethiopia |
| | Georgia |
| | Germany |
| | Gozo |
| | Greece |
| | Istanbul |
| | Lithuania |
| | Malta |
| | Palestine |
| | Portugal |

| | |
| --- | --- |
| | Amersfoort, Netherlands |
| | Beirut, Lebanon |
| | Constantinople |
| | Ferrara, Italy |
| | Baden-Württemberg, Germany |
| | Freiburg, Germany |
| | Genoa, Italy |
| | Haldern, Germany |
| | (Diocese of) Limburg, Germany |
| | Modica, Sicily |
| | Moscow, Russia |
| | Nerola, Italy |
| | Ptuj, Slovenia |
| | Qormi, Malta |
| | Riano, Italy |
| | Senj, Croatia |
| | Venice, Italy |
| | Catalonia, Spain |
| | Cappadocia, Turkey |
| | Aragon, Spain |
Prayers
O GOD, Who dost rejoice us by the merits and intercession of Thy blessed Martyr George;
graciously grant that we, who through him implore Thee for Thy bounty, may receive thereby the gift of Thy grace. Through Christ our Lord. Amen.
Novena in Honor of St. George
Preparatory Prayer
ALMIGHTY and eternal God! With lively faith and reverently worshiping Thy Divine Majesty, I prostrate myself before Thee and invoke with filial trust Thy supreme bounty and mercy. Illumine the darkness of my intellect with a ray of Thy Heavenly light and inflame my heart with the fire of Thy Divine love, that I may contemplate the great virtues and merits of the Saint in whose honor I make this novena, and following his example imitate, like him, the life of Thy Divine Son.
Moreover, I beseech Thee to grant graciously, through the merits and intercession of this powerful Helper, the petition which through him I humbly place before Thee, devoutly saying, "Thy will be done on earth as it is in Heaven." Vouchsafe graciously to hear it, if it redounds to Thy greater glory and to the salvation of my soul. Amen.
Prayer in Honor of St. George
O GOD, Who didst grant to St. George strength and constancy in the various torments
which he sustained for our holy faith; we beseech Thee to preserve, through his intercession, our faith from wavering and doubt, so that we may serve Thee with a sincere heart faithfully unto death. Through Christ our Lord. Amen.
Invocation of St. George
O FAITHFUL servant of God and invincible Martyr, St. George; favored by God with the gift of faith, and inflamed with an ardent love of Christ, thou didst fight valiantly against the dragon of pride, falsehood, and deceit. Neither pain nor torture, sword nor death could part thee from the love of Christ. I fervently implore thee for the sake of this love to help me by thy intercession to overcome the temptations that surround me, and to bear bravely the trials that oppress me, so that I may patiently carry the cross which is placed upon me; and let neither distress nor difficulties separate me from the love of Our Lord Jesus Christ. Valiant champion of the Faith, assist me in the combat against evil, that I may win the crown promised to them that persevere unto the end.
Prayer
My Lord and God! I offer up to Thee my petition in union with the bitter passion and death of Jesus Christ, Thy Son, together with the merits of His immaculate and blessed Mother, Mary ever virgin, and of all the Saints, particularly with those of the holy Helper in whose honor I make this novena.
Look down upon me, merciful Lord! Grant me Thy grace and Thy love, and graciously hear my prayer. Amen.
SOURCE:
THE FOURTEEN HOLY HELPERS, Fr. Bonaventure Hammer, O.F.M.
TAN BOOKS AND PUBLISHERS, 1995; with Imprimatur, Imprimi Potest and Nihil Obstat.
"Liberator of captives,
and defender of the poor,
physician of the sick,
and champion of kings,
O trophy-bearer,
and Great Martyr George,
intercede with
Christ our God that
our souls be saved."